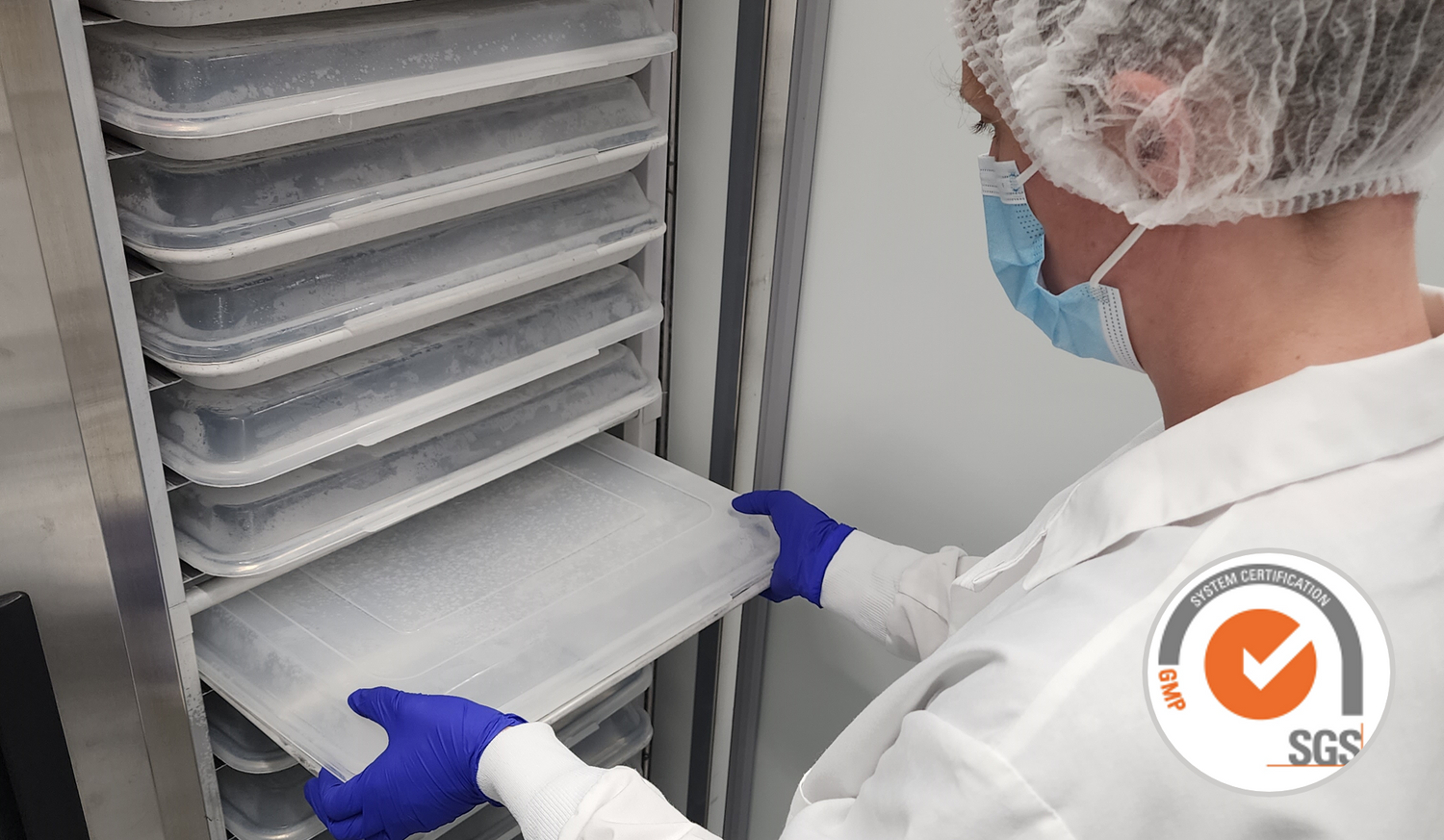 What Makes Milkify Different? Safety and Quality.
Providing you with the safest, highest quality product for your baby is our top priority. Milkify is the only breast milk freeze-drying service with a patented and certified process. Keep reading to see what makes us different.
Get Started
Milkify is the only breast milk freeze-drying service with a patented and GMP-certified process.
We Never Touch Your Milk!

Breast milk requires sterile handling to prevent contamination.

This includes before, during, and after its time in the freeze-dryer.

Milkify is the only company to have a completely contact-free process from start to finish (absolutely no contact with equipment or utensils at any point in the process).

Milk Never Pooled on Trays

At Milkify, your frozen breast milk is processed inside our patented SafeDry freeze-drying pouches.

These pouches are specially designed to allow water vapor to escape while protecting your milk from contamination.

We do not pool milk on reusable trays for processing. Our SafeDry pouches are single-use.

Individual Bag Tracking

Your bags of breast milk are always labeled with your name and unique tracking number in the Milkify facility -- even inside the freeze-drying chamber.

We track each individual bag of breast milk we receive from start to finish.

Your milk is never in direct contact with our equipment and we follow strict quality control procedures to ensure that cross-contamination is avoided during the process.

Your milk is processed individually and is processed separately from other clients'. Our technicians work with only one client at a time.

Sterile Handling and Trained Technicians

Trained technicians work in ISO5 cleanroom workstations using sterile techniques to ensure that no contamination in introduced during the packaging process. Every bag is packaged by hand into individual, single-use pouches (NO powder dispensers). Each order is processed separately, and there is no point in our process in which your milk is at risk of being in contact with another client's milk.
We Never Thaw Your Breast Milk for Processing

At Milkify, breast milk is kept frozen at all times during processing. The temperature of your milk is recorded at arrival, and freezer temperatures are remotely monitored and logged to ensure that the milk is kept at a safe temperature at all times. Freezers are equipped with backup generators in case of power outage.

We Quality Control Test Every Order for Safety

As part of our final quality control check, we measure the exact water activity ("dryness") of your breast milk powder using a laboratory-grade water activity meter. This final QC check ensures that the freeze-drying process removed water from the milk efficiently. This is how we know that your breast milk powder will remain shelf stable for up to 3 years with no refrigeration when stored properly in a cool, dry place.
We Don't Outsource Processing and Our People Are Highly Trained

Every part of the Milkify process is tightly controlled and happens inside our GMP-certified facility. Our people are highly trained in sterile handling techniques and certified in food safety. Only these highly trained personnel with active food safety certifications process the milk. We follow strict protocols regulating personnel hygiene, personal protective gear, and equipment sanitization to ensure that your milk is handled safely from start to finish.

Our Process Was Designed By Scientists and Medical Professionals

Scientifically backed and tested: The processing protocol used by Milkify was designed by Dr. Berkley Luck, an expert in sterile handling. The process is based on decades of scientific research and was extensively tested for over a year.​​​

Approved by experts: Milkify's process has been reviewed by Food Safety experts, Medical Doctors, our Medical and Scientific Advisory Board, Registered Dieticians, and Certified Lactation Consultants. Freeze-drying is also used by human milk donor banks worldwide, who have shown freeze-drying to be a safe and effective way to preserve breast milk.
Still Have Questions?
We believe in full transparency around our process, safety measures, and facility. Call us or email us with any questions and we'll be happy to answer them.